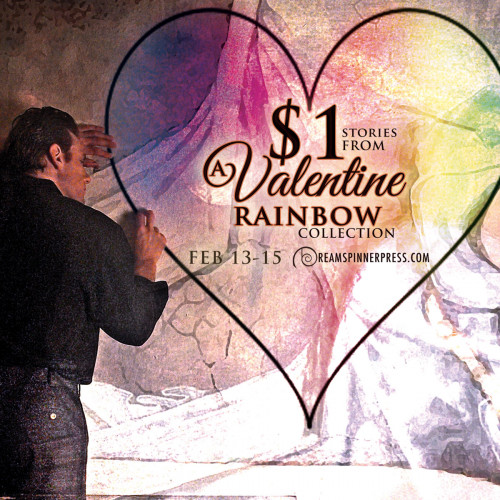 Tuesday February 13, 2018
Get all stories from A Valentine Rainbow collection for $1 each!
WHERE?
Dreamspinner Press
WHEN?
February 13, 2018 - 12:00 AM Eastern To February 15, 2018 - 11:59 PM Eastern
At the Under the Table host club, Valentine's Day means one thing: cash. Neglected housewives, newly ex-girlfriends, and lovelorn thirtysomethings pay for the attention of handsome men. Shy bartender Jem has always wanted to be a host, and when the club's owner, Miss Rye, accepts a contract from a MensLove Convention, Jem volunteers to flirt and make out with another host for the ladies' entertainment. Bailey, an older man who's had his eye on Jem, convinces Miss Rye to let him be Jem's partner, and everyone gets more than they expected—especially Jem and Bailey.
When Josh put a blue valentine in the class box for Bobby Prentice in fifth grade, he just wanted to show how much he appreciated his best friend. Years later, both the ridicule he suffered and his unrequited feelings for Bobby have followed him to the university where they both teach. Bobby would like to say many things to his friend, but he doesn't know if he can find the courage in himself that he admires in Josh.
While performing as Cupid on Valentine's Day, Josh has the unpleasant task of delivering a break-up message to Dallas from his girlfriend, Jess. Jess is convinced Dallas is gay, and when Josh tries to comfort him, he finds she may very well be right. When Dallas's best friend Austin arrives, it's up to Josh to show both young men the love and acceptance they've always had in each other.
Peru Cabral, the youngest of five brothers, has just come out to his family. Lawson Todd has returned to his small hometown in disgrace after losing his corporate advertising job. When Peru and Lawson spot each other at the family Laundromat where Lawson works, the attraction between them is undeniable. But the fears, insecurities, and false fronts both men are hiding behind might doom the relationship before it begins—unless the brothers Cabral step in.
Best friends Case and Mitchell are so inseparable everyone assumes they're dating. Case's dad even buys them a joint gift—a camping trip. Even though Case hates the woods, he wants Mitchell to have a good time. When they discover the trip is a couples' retreat, they have to fake a relationship. Case can't understand why the trust and intimacy exercises the other couples struggle with come so naturally to them. After all, they're not really boyfriends….
For Reuben, numbers are everything people are not: rational, predictable, and soothing. Outside of this family, his boss, Terry, is the one person he feels connected with. In the years they've worked together, listening to Terry's jokes and stories over coffee has become a reliable part of his routine. But he's missed having family nearby since his parents retired to Florida, and figures he'll need a woman to correct the problem. He's hurt and confused when Terry not only refuses to help, but announces he won't be coming around much anymore. It's up to Reuben's no-nonsense sister Yaffa and his therapist, Dr. Greenberg, to help him understand Terry's feelings—and his own.
After his divorce, Steve Manchester came out so he could be himself and find love with another man. But as it turns out, the only man he really wants is his sweet, intelligent, and gorgeous best friend Burgess Cameron. Burgess, however, wants to keep the relationship platonic. When Steve can no longer stand the unrequited love, he decides to move to San Francisco to start a new life. But before he leaves, Burgess invites him to a Valentine's Day dance, where Cupid may have other plans for them both!
2nd Edition
First edition published as a part of the Never Say Never anthology, Silver Publishing, February 2011.
Love comes in many shades, from the sparkling pink of a shared glass of champagne or the faded blue of an old paper heart to the shocking orange of a sports car, and everything in between. Whether they're revisiting a missed opportunity, mustering the courage to take a chance, or simply playing Cupid from the sidelines, the men in this Valentine's Day anthology celebrate romance in all its myriad hues. Sometimes soft and subdued, sometimes bright and outrageous, the color of love is different for everyone. Childhood sweethearts, unrequited crushes, friends trying to resist their feelings, strangers who see something in each other at first glance, and even beings from the realm of myth and legend explore every stripe on the rainbow in search of their perfect complement. From sweet to red hot, these stories span the spectrum and revel in the humor, happiness, and hope of the most romantic day of the year.