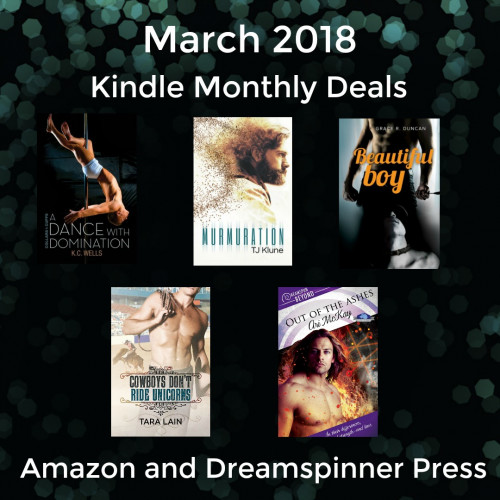 Thursday March 01, 2018
March Kindle Deals are price matched at our store. Enjoy four eBooks for $1.99 each and one 99-cent eBook.
WHERE?
Dreamspinner Press
WHEN?
March 01, 2018 - 12:00 AM Eastern To March 31, 2018 - 11:59 PM Eastern
Asheville Arcana
Dreamspun Beyond
Asheville Arcana
In their differences, they'll find strength—and love.
Alpha werewolf Eli Hammond returns from a fishing trip to discover a nasty surprise—five members of his pack murdered and the rest missing. He needs help locating and rescuing his pack mates, but the supernatural council in Asheville, North Carolina, turns him away.
Except for one man.
As they work together, Eli is stunned—and not especially thrilled—to discover half-elf Arden Gilmarin is his destined mate. But as Arden and his friends struggle to help Eli in his quest, Eli surrenders to the demands of his body—and his heart. They'll need to bond together, because the forces opposing them are stronger and more sinister than anyone predicted. The evil has its sights set on Arden, and if Eli wants to save his mate and the people he is entrusted with protecting, he's in for the fight of his life.
Malcolm Tate hung up his flogger when his submissive sought out another Dom and landed in the hands of a serial killer. Convinced his lack of dominance sent his sub away, Mal has spent two years blaming himself for what happened. But when his best friend finally convinces him to go back to the local dungeon, Mal's grateful. Especially when he wins beautiful, submissive, firmly closeted Kyle Bingham in a charity slave auction.
College grad Kyle hasn't earned enough to move out of the loft his conservative, homophobic parents bought, much less to buy any of the other things still in their name. When he's won at auction by the hot, amazing Mal, he's shocked that anyone would want him. No one else seemed to—not his parents, his former Doms, or any of his disastrous dates.
But Mal does want him and Kyle lets his guard down, only to be outed to his parents. With his world crashing down, he must find a way to trust Mal—and their developing relationship—or risk losing everything.
A Cowboys Don't Story
Cowboy Danny Boone—a name he made up one drunken night and has regretted ever since—harbors a big past and yearns for a small future. A short, bright career as a champion bull rider almost ended in his death when his homophobic father discovered Danny was gay. Now Danny longs for a plot of land he can build a ranch on, enough money to make up for some of the education he missed… and, secretly, a beautiful femme who likes to top—a combo rarer than a unicorn.
Then onto the guest ranch where Danny works drives San Francisco decorator Laurie Belmont, a young man so gorgeous he makes the horses gasp, and so ballsy he almost kills Danny's attacker. Laurie's trying to find his way out from under the thumb of a domineering mother, helpless father, and rich, privileged boyfriend. But no matter the attraction, their lives are worlds apart, and cowboys don't ride unicorns.
In the small mountain town of Amorea, it's stretching toward autumn of 1954. The memories of a world at war are fading in the face of a prosperous future. Doors are left unlocked at night, and neighbors are always there to give each other a helping hand.
The people here know certain things as fact:
Amorea is the best little town there is.
The only good Commie is a dead Commie.
The Women's Club of Amorea runs the town with an immaculately gloved fist.
And bookstore owner Mike Frazier loves that boy down at the diner, Sean Mellgard. Why they haven't gotten their acts together is anybody's guess. It may be the world's longest courtship, but no one can deny the way they look at each other.
Slow and steady wins the race, or so they say.
But something's wrong with Mike. He hears voices in his house late at night. There are shadows crawling along the walls and great clouds of birds overhead that only he can see.
Something's happening in Amorea. And Mike will do whatever he can to keep the man he loves.
Collars and Cuffs | Book Four
Collars and Cuffs: Book Four
Recently returned to the UK after living in the States since he was eleven, Andrew Barrett is determined to keep busy and make a new life for himself. He works full time as a copywriter and strips at a club on Canal Street on weekends. But it still leaves him too much time to think. Then he finds the BDSM club, Collars & Cuffs, where at twenty-nine, he is their youngest Dom. Young doesn't mean inexperienced, however. All this activity keeps him focused with no time to dwell on the past. But the past has a way of intruding on the present.
It's been four long years since Gareth Michaels last set foot inside Collars & Cuffs. But when he finally summons his courage and steps back into his former world, he finds the man who drove him away is still a member, and what's more, he wants Gareth back. Two men in pain need the freedom they find in each other, but it takes another man's horrific plans to make them see it.